Why Choose A Lodge Cabin?
Lodge Cabins are becoming very popular, and with good reason. They are robust, have the same insulation as a home and can be a relatively cheap alternative to renting an office or constructing a brick building.
"Our lodges have the same planning permission rules as a caravan, but with the insulation of a house."
Gaining planning permission for any outbuilding, including a log cabin, can take a considerable amount of time. Many of the lodge cabins we manufacture and erect for our customers come under what is classed as 'permitted development'. This means planning permission is not required, allowing us to construct your cabin immediately, without having to wait.
For more information on the services that we offer, please click here.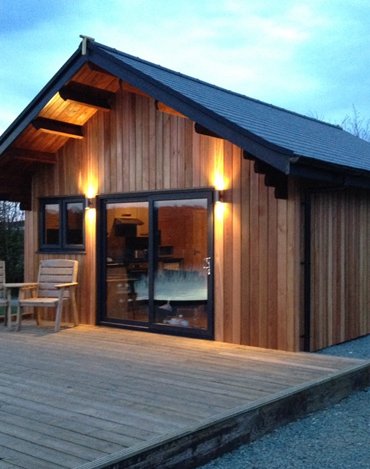 Frequently Asked Questions
Here are a few of the most common questions we get asked here at Eco Friendly Lodge Cabins. If your question is still unanswered, please use the inquiry form below.
This depends on the size of the lodge cabin, where you propose to put it and your intended use. Generally speaking, lodge cabins are classed as a permitted development which means planning permission is not required. We recommend that you check with your local planner or Planning Portal to be 100% sure.
In most cases, this shouldn't be a problem. All our lodge cabins are delivered in a 'flat pack' form ready for assembly. If the delivery person is unable to offload the materials at the erecting zone, we'll be able to carry the materials to the site. Please get in touch with a member of our team for more information.
Available in a range of shapes and sizes, Lodge Cabins are very versatile in use. A home gym, garden office, granny annexe, storage to name a few.
Yes, that shouldn't be a problem. Although providing an electricity supply to one of our lodge cabins is normally a straightforward task, for safety reasons we recommend that you consult an approved electrician first.
For an exact time-frame, please get in touch with a member of our team for more information and help.
All the materials we used to build your lodge cabin come with a 15 year guarantee. If you look after and maintain your lodge cabin, it will have the exact same life expectancy as a normal house.
Still unsure? Submit your questions below
Our Featured Projects
All

Lodge Cabins

Oak Sunrooms

Garages & Storage

Other Projects