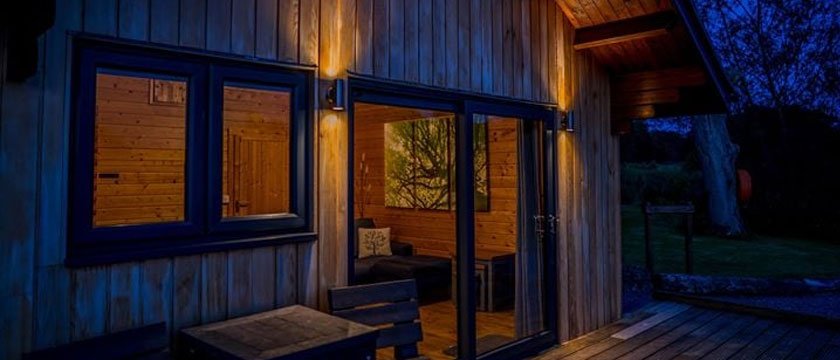 January 6, 2022
Many people look at log cabins as nothing more than a glorified summer house or a dumping ground for garden equipment and furniture. If you are one of these people, you'll be surprised to know this isn't the case. Available in a range of shapes and sizes, log cabins are extremely versatile and can be an ideal space for a wide array of activities. Having worked alongside a variety of different customers across the UK, this article looks at 8 of the most popular uses for garden log cabins:
1) Garden Summer Rooms
There is more to a garden summer room than you might think. Summer rooms add a combination of practicality and storage to a garden area by extending the comfort of the home into the great outdoors.
Whether you're enjoying the warm breeze on a summer's night or the gentle sound of an autumn shower on the roof as you relax inside, a summer room provides a flexible and comfortable space to enjoy alone, with family and friends.
2) Garden Hobby Rooms
Having a hobby is a great way to spend your spare time, relax and unwind from your daily routine. However, once a hobby starts taking over the home, things can get far from relaxing for all involved. A garden hobby room is an ideal solution for hobbyists who wish to have their own secluded, purpose-built space to enjoy a hobby and be able to take creativity to the next level. Here are a few hobbies our customers use their garden log cabins for:
Model building and painting
Writing and reading
Garden art studio
Music production
Wildlife watching
Yoga and fitness studio.
3) Garden Offices
In the current climate where the world of work has changed dramatically, we seem to be talking to more and more people looking to invest in garden office buildings as their new place to work from.
For anybody new to home working, the challenge is trying to create the right environment to still enable you to be productive, effective and focused on what you've been asked to do. It's so easy to become distracted, lose focus and then struggle switching off that often the only solution is setting up a segregated workspace that separates work from home. By keeping work-related stuff separate, you'll be able to differentiate between work and free time far easier, and once you're at home, you can truly relax and unwind.
Check out '7 Reasons Why You Need A Garden Office Log Cabin' for more information.
4) Bespoke Wooden Workshops
Whether for work or for a hobby, a log cabin makes the ideal space for a workshop. At Eco Friendly Lodge Cabins, we've had the pleasure of building bespoke garden workshops for craft makers, wood workers, ceramicists, jewellers, dress makers, mechanics, printers, leatherworkers, cake makers and more.
If a hobby looks like it's going to turn into a home-based business or you're at the point where you've outgrown the spare room, a garden workshop is a great solution.
5) Granny Annexes and Family Annexes
Mobile garden annexes seem to have grown in popularity over recent years as a relatively simple way to utilise an underused garden area.
For some, an annexe provides an additional income stream. For others, an annexe can provide future security as families plan to help take care of ageing relatives, children who return to live at home after university or young adult's unable to (yet) afford their first step on the property ladder.
For anybody considering a new annexe, it's important to get your finances straight so you've got a good idea what your future outgoings might be. Please check out one of our latest articles 'Do I Have To Pay Council Tax On My Granny Annexe?' for more information on some of the outgoing costs you may need to pay.

6) Garden Gym Rooms
We all know the many health benefits that regular exercise can bring. Unfortunately, a timely commute, long queues for training gear, expensive monthly fees and a strict class schedule puts many people off going to the gym.
If you long a home gym, but haven't the space indoors, a garden gym room will allow you to enjoy all the benefits of a gym, but with the convenience of virtually zero travel time and total flexibility.
7) Classrooms and Nursery Buildings
The population in the UK is rising year on year. With more children, there are increased pressures on schools and increased opportunities for new and existing nurseries to provide additional learning space. Log cabin classrooms and nurseries have all the same qualities of a brick-built building but can be made much cheaper, and much quicker.
8) Holiday Log Cabins
In the Market for a Bespoke Log Cabin?
Why not treat yourself, your family and your hobbies and interests to a bespoke garden lodge cabin this summer. Please contact us for more information on the log cabin kits and building services that we offer.