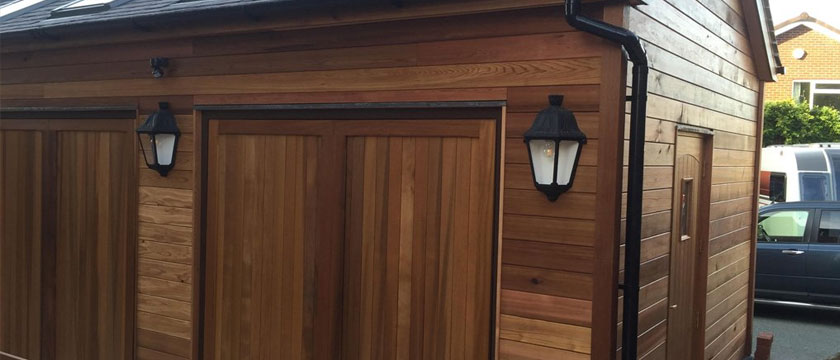 July 23, 2021
With real estate prices soaring year on year and space becoming an even hotter commodity, homeowners are looking for ways to transform their properties by investing in new additions or conversions. Unused space in any home isn't ideal, and we're all searching for new ways to make the most out of our houses. Attic or loft conversions can update any home by making use of the disregarded top floor – one that's usually delegated for use as dark storage space – or even worse, never used at all. That's why it's usually the go-to option for those wanting to add value to a home, or to add that little bit of extra space. However, loft conversions can be disruptive to everyday life. They're costly, can uncover or lead to hidden disasters, and, to put it frankly – people are looking for alternatives to the somewhat outdated loft conversion. That's where the option for garden rooms come in!

Should I Choose a Garden Room or Loft Conversion?
Garden lodge cabins have been around for years now, but do homeowners really think of a new garden room or cabin as being akin to a new loft conversion? There are a number of ways a garden room might actually be the better choice. Perhaps you think a loft conversion is exactly what you're looking for. However, you're making a big investment on your home. It's therefore important to take the time to consider the other, potentially more beneficial options that are available to you. Here's how garden rooms might be the better alternative to loft conversions.

1 – Greater Design Opportunities
With a loft conversion, you're restricted to only building within the constraints your home already has. Unless you want to splash out even more and extend your whole home, you can't develop an attic space that doesn't fit within what you already have. From low ceiling heights to awkward angles in particular spaces, loft conversions can actually be quite limiting with regards to design potential. The chances are, if you're investing in your home, you want to have some freedom as to how the design itself turns out.
This is where garden rooms may be the better choice over a loft conversion. A garden room has a range of options that can be altered to suit your own personal preferences. Our team at Eco Friendly Lodge Cabins has the experience and knowledge in adapting designs and specifications to suit an array of customers, each with potentially different ideas in mind.

2 – Open, Bright Spaces
Lofts aren't usually deemed as being the most comfortable of spaces in any house. They're seen as dark, dusty and often neglected areas. This preconception often extends to even after the loft conversion has been undertaken, as it is costly and difficult to open up these confined spaces.
With a garden cabin, however, you have the world at your fingertips! Bright, open garden annexes are extremely easy to build to a quality standard, as we're not working to demolish existing structures. We're just designing, adding in light where it's needed. This can have great potential for work spaces, annexed bedrooms or kids' playhouses. Nobody wants to send their kids off to play or live up in the loft; high up spaces that can also be difficult to access at times.

3 – Considering the Price…
If you choose to build a garden room rather than a loft conversion, you'll be much less likely to stumble upon any unexpected costs. Part of why home renovations can be so costly and draining is the fact that building work often uncovers structural issues. Some of these issues can cost thousands.
Unlike the more invasive loft conversion, a garden room is built without having any impact on the structure of your home. It doesn't rely on, and has no capacity to damage, the internal structure of your attic or loft space.

4 – Increase the Value of Your Home
Many choose loft conversions as an opportunity to increase the value of their home. In most cases, this is successful. However, a dodgy loft conversion could actually decrease the value, and might cause damage to the rest of your property. Issues such as damp and badly insulated conversions can actually have a huge negative impact on your other living spaces.
A quality garden room can have a great positive impact on the value of your home. Some people have misconceptions about how they add value, having seen unprofessional 'sheds' that weren't built to the quality standard we uphold with our garden rooms. Built properly and with care, our sustainable wooden structures are insulated just like the home itself. Open up your opportunities for great design and new home space with a new garden annexe. Why restrict yourself to the dark and dingy loft space, when you have garden land that could be put to better use while also extending your property?

Will a Garden Room Suit You Better?
After considering all we've mentioned about the benefits associated with building garden rooms instead of opting for a loft conversion – which do you think is the better option? Please leave us a comment and your thoughts below.