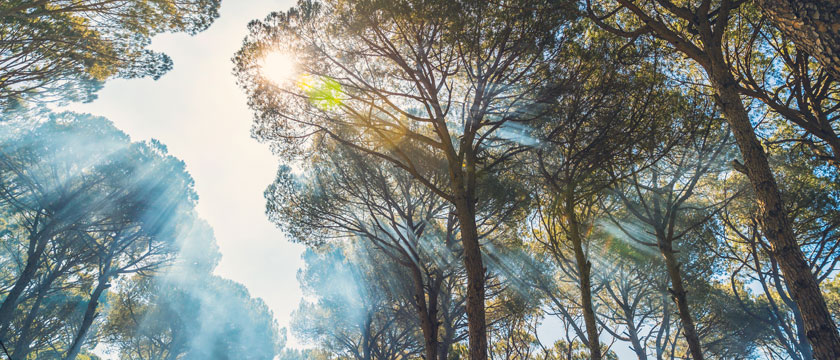 January 23, 2022
At Eco Friendly Lodge Cabins, manufacturing environmentally friendly and sustainable products is very important to us. All the garden log cabins that we create are built to a high standard using sustainable materials and meet latest building regulations on insulation values. More information on the sustainable materials we use can be found below:

FSC Timber
The Forest Stewardship Council (FSC) oversees the responsible management of the world's forests. They set the standards for forest products and decide if products are allowed to be labelled as eco-friendly. We manufacture all our garden log cabins from timber that we get from FSC-certified suppliers. We understand the importance of using sustainably and responsibly sourced timber to help lessen our environmental impact.

 Insulation
"Logs are naturally great insulators so a new garden log cabin will be energy efficient, and heating bills will be reduced, right?" Wrong. So why is insulation so important? Studies have shown:
Floors accounts for approximately 10% of heat loss in a garden log cabin
Roof and floors combined account for as high as 70% of heat loss
Walls, windows, and gaps account for approximately 35% of heat loss.
Insulation not only helps keep a garden log cabin warm in the winter, but also cool in the summer. Insulation is available in a selection of different products including boards, rolls, and foam. We currently offer the following options of insulation:

PIR Insulation – PIR stands for polyisocyanurate, which is a type of rigid foam insulation that's used in building construction. PIR insulation is a cost-effective building material that will pay for itself over time. PIR boards will save 80 times more energy than it took to make it over its lifetime. The other benefits of PIR are:
PIR boards need only half the thickness of traditional insulation to achieve the same level of thermal efficiency
They will not rot, sag, or perish over time
The insulation core and facings help defend against mould and bacteria
Fire resistant
Non-irritating.

Mineral Wool Insulation – Mineral wool is a non-metallic, inorganic product manufactured from a carefully controlled mix of raw materials, including either stone or silica which are heated to a high temperature until molten. The molten glass or stone is then spun and formed into a flexible, fibrous mat for further processing into finished products.
The exceptional thermal, fire and acoustic properties of mineral wool derive from the mat of fibres that prevents the movement of air, and from mineral wool's inert chemical composition.

Sheep Wool Insulation – For thousands of years, sheep have been able to adapt to even the harshest of environments, as their wool protects them through hot, cold, damp, and dry seasons.
Wool's unique advantage is its breathability. That is, it's ability to absorb and release moisture from the surrounding air, without compromising its thermal efficiency. When wool fibres absorb moisture, they generate tiny amounts of heat. This warmth acts to prevent condensation in construction cavities by keeping the temperature above the dewpoint in damp conditions.  This property creates a natural buffering effect, stabilising heat changes that occur with relative humidity. Practically, this reduces the need to keep adjusting heating or cooling levels as wool insulation will keep a buildings cooler during the day and warmer during the night. The benefits of sheep wool insulation are:
Wool is natural, renewable, and sustainable material
Sheep wool insulation is perfectly safe to touch and requires no specialised safety clothing or equipment, making it easy to install. It causes no irritation to the eyes, skin or lungs and wool fibres present no hazard to your health
Wool fibres are breathable, meaning they can absorb and release moisture without reducing thermal performance unlike fibre glass-based products
Wool does not support combustion and will extinguish itself in case of fire
Sheep wool insulation does not settle due to the high elasticity of the wool fibres ensuring no loss of performance over time.

For more information on the different insulation options we can offer, please contact us.

Cladding
The cladding of your log cabin refers to the exterior of your building. It's not only about how it looks, but also the level of insulation and durability it offers. We use either timber, PVC, or a composite cladding for our garden log cabin builds. If sustainability is an important factor for you, we recommend either a western red cedar cladding or a homegrown cedar cladding.
Most of the western red cedar cladding seen in this country is imported from Canada; however, cedar grows well in our woodlands too. British cedar cladding offers a significantly cheaper alternative to Canadian cedar and avoids the substantial environmental impact of shipping timber to the UK.
The stability and natural durability of British western red cedar makes it ideal for external cladding applications. The wood is relatively knotty, but the knots are sound and do not detract from its effectiveness.

For more information on the services that we offer and the garden log cabins we build, please send us a message. You can also find out more about us here on our website: https://www.ecofriendlylodgecabins.co.uk/about-us/