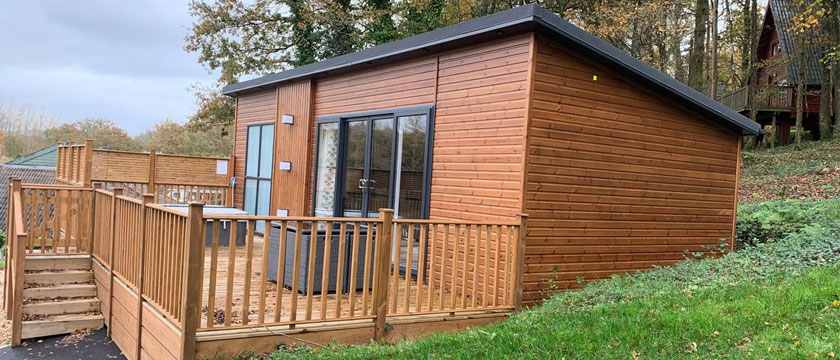 September 9, 2021
Usually, you will not need planning permission to build a log cabin behind your own property. Given the assumption that you are the legal owner of the land itself, there are only a few restrictions. You may need to seek planning permission in a few situations. This article will help you consider how the purpose and size of the cabin, as well as its location, will determine whether you need to apply for planning permission or not.
After all, it would be disheartening to build a cabin that you only have to remove further down the line. This can happen if you receive what is known as an 'enforcement notice', meaning you are legally required to take the project down. So, read on to find out more about whether you need planning permission for your own log cabin.

Why is Planning Permission Rarely Needed when Building a Garden Log Cabin?
Planning permission is required for an array of building projects, as they sometimes have an impact on the spaces and people around them. Many buildings will need planning permission if they are having an impact on your building, or if you are changing the purpose of your building altogether. You can always contact your local planning authority in order to have them help decide whether you need to apply or not.
Log cabins can be a great way to add a minor yet effective extension to your property, without having a huge impact on surroundings. People often build their log cabins for entertainment purposes. Examples of this would be building a cabin for use as a children's play area, or even a personal workshop. In these situations, planning permission is not usually a requirement. This rule is extended for other areas such as building a log cabin for use as a garden office, for example.

Situations Where Planning Permission Would Be Necessary
So, we know planning permission is not always needed when building a log cabin. However, there are a range of reasons that may have brought you to this article in the first place! We've put together a handy list of certain situations that would mean you would need to apply for planning permission before going ahead with the build.
If you are building the log cabin in front of your property.
Generally, most people choose to build their garden log cabin behind their house, which puts behind the general 'building line'. However, if you are deciding to build in the front garden, planning permission is always required. This is because your log cabin will therefore have more of an impact on its surroundings, as well as your neighbours.
If you are living in any area that is protected for conservation purposes – such as within a national park. It's only natural that we should want to protect beautiful spaces or historical sites, so some areas have stricter building regulations than others. If your log cabin is based not based further than 20m from your property and is on your own legal land, however, you will not need planning permission in some cases.
If the log cabin is to be used as any form of accommodation, then acquiring planning permission will usually be a necessity! This goes for spaces intended to be used as a guest room, for example. The reasoning behind this is that you can accommodate for guests in the primary property itself. You will also need planning permission if you plan on selling or renting the log cabin out to someone who is not in your family.
If your log cabin takes up the majority of your garden space or is taller than three metres in height. Also, if your build is two metres close to your legal property boundaries, then you will need planning permission if the cabin is over 2.5 metres high. However, if you opt for a dual-pitched roof, the log cabin may be up to four metres tall before you need planning permission.
How the Planning Permission Process Works…
If you're trying to gather more information on how you can prepare the necessary requirements for building a log cabin on your own property, you've come to the right place! If this article has helped you determine that you do need to apply for planning permission before building your log cabin, you may apply via the Planning Portal. This website allows you to apply for permission from every local authority in England. Each authority will take into account size, layout, available infrastructure, the use of the log cabin and to what extent your project will affect its environment.
Once you have applied, it can take 8 weeks for your application to be processed. Your local authority will then get back to you about whether your application has been accepted or denied. If the application is denied, you can always appeal the decision. As we mentioned earlier, log cabins do not usually require planning permission. However, it's important to ensure you do the research beforehand. You can follow the guidelines we listed above in determining whether your project will need permission to build or not!

Eco Friendly Log Cabins Can Transform Your Space With Ease
At Eco Friendly Log Cabins, we provide our customers with a range of beautiful log cabins, perfect for use in a variety of different ways. Built using responsibly sourced materials, we are committed to reducing our environmental footprint wherever possible. This involves incorporating sustainability into each of our projects, guaranteeing they will remain fully functioning and enjoyable for years to come. We know planning your new cabin can be a bit of a task, but we're here to ensure the logistics don't get in the way of the excitement surrounding your new log cabin!
If you're interested in finding out more about our variety of both modern and traditional log cabins, look no further. You can contact us via phone on (01691) 610 883 or by email, at [email protected] Our friendly team always do their best in answering any queries you may have about your project.