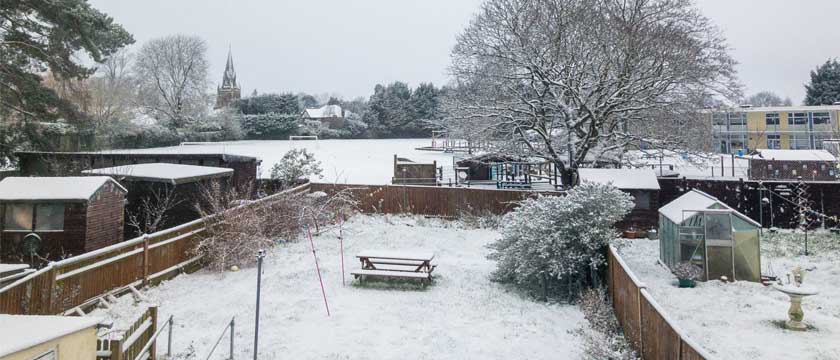 November 19, 2021
Something we are all too familiar with is the unpredictability of the great British weather. With heavy rain one moment and the skies breaking out in sunshine the next, we never know what is around the corner! With the above in mind, the UK weather is one thing to consider when it comes to deciding whether a insulated garden office is right for you.
Garden offices have risen in popularity over the past few years. Especially in the current climate, insulated garden offices have become a great solution in making the most out of your garden area. Click here to find 7 reasons why you need a Garden Office Log Cabin.
We are here to explain how your garden office will remain fully usable all year-round. Read on to find out exactly why this is:

Garden Offices Built with Comfort in Mind

When thinking about a garden office, your mind might wander towards the idea of a traditional garden shed. Often made from flimsy wood and used to store gardening equipment, sheds are a far throw from the quality garden offices that we build for our customers. Unlike a shed, garden offices are designed to provide comfort for humans – not just rusty old lawnmowers. Working in a comfortable environment is the way forward; as experienced garden office manufacturers we understand this.

How Does a Garden Office Stay Warm in the Winter?

The innovative insulation systems that we use are almost no different to those used when building a house. This means your garden office will be just as well insulated as any other room in your home. We also understand the importance of incorporating quality fittings and fixtures. From doors to windows, draughts can seep in if the design is not properly considered and quality materials are not used.
Even with a well-insulated garden office, feeling the cold British chill indoors on a freezing day is inevitable. To avoid this, we recommend integrating a heating appliance into the design of your garden office. Advancements in technology means an office heating system does not need to take over too much space; and due to the quality insulation that we use, energy consumption can be kept to a low. We know space utilisation is key in any workspace, so there are now a range of subtle heating systems you can opt for. All these factors work together to help keep your garden office cosy and warm throughout even the coldest of winter days.
Top Heating Options on the Market

One question we are asked is how best to heat a garden office. The key points to consider are the power sources available, your intended use of the room and how much you want to spend. It is certainly an important consideration as you will want your garden office to be welcoming and comfortable all year around. Here is our list of top heating options:
1. Passive Heating
When it comes to reducing ongoing heating costs, we recommend passive heating where possible. Your garden office can be designed with features like south-facing windows and dark floor tiling to retain heat from the sun. Good quality double glazing and ensuring you have draught-proofing for doors and windows will help to retain the heat. Wall, roof and floor insulation can limit how much additional heating you need through the colder months.
2. Electric Convection Heaters
The most widely-used option among our customers. Electric convection heaters are a very popular choice for people wishing to use their garden office all year round. They can heat an office space fairly quickly, and can be free standing or wall mounted. Most are available with timers and thermostat controls. Electric convection heaters are relatively inexpensive and easy to fit solution.
3. Electric Radiators
Electric radiators are similar to the radiators in a house, except that they have an electric element to heat them. They can be a little slower to warm up than convection heaters, and there is typically less control when it comes to the temperature (although they can be linked to thermostats and timers). Electric radiators are a good option if you are planning to use your garden office as a workshop where the room environment is likely to get dusty. Because they have no exposed heating element they pose less of a fire risk.
4. Bottled Gas Heating
This is a great option for a garden office that has a limited power sources. It is very important to note that gas heating requires adequate ventilation to prevent the build-up of water vapour or toxic fumes.
5. Solar Heating
If you are looking for low running costs, solar heating is a great choice. Solar warms water that is then passed through a series of tubes mounted on the roof. This water  is then fed to the radiators inside. The main drawback with solar heating is that it works best when the sun is warmest – and therefore when you are least likely to need it.

Quality Materials Matter

As with all industries, some garden office or log cabin manufacturing companies simply do not have their customers best interests at heart. They revert to using cheap, non-sustainable materials that are unlikely to survive the seasons well. These garden offices can look impressive to begin with, however that is usually before they have had to withstand any changes in the weather. We all know how nature likes to wreak havoc on almost everything it comes across, and garden offices are no exception.
At Eco Friendly Lodge Cabins, we always partner with quality material providers throughout every step of the building process. The timber we choose in our creations are carefully selected, with considerations made as to how well they withstand the British weather. Our window and door fixtures are designed to keep heat indoors, while everything fits together snugly in a way that eliminates any breeze and potential for damp.

Cabin Specification
All our garden offices

meet the latest building regulations on insulation values

Foundations are a concrete plinth type. Floors are constructed using C24 Timber with a cement based board to the under side insulated and decked with Weyroc 22mm Flooring

Walls constructed either using 38 x 89mm CLS or 38 x 140mm CLS covered with 9mm OSB wrapped in a breathable membrane counter battened and cladded in either Timber , PVC or a Composite Cladding

Internal walls are insulated and plaster boarded and skimmed. We also offer a finished wall clad in a variety of finishes

Roof constructed using C24 Timbers decked with OSB3 Board and covered with a EPDM roofing system , finished with UPVC Fascia Soffits and Guttering in a variety of colours
Internally insulated plaster boarded and skimmed or can be finished with a hygienic ceiling finish
All windows and doors are either Kömmerling UPVC or Aluminium finished in a variety of colours.
Conclusion

When we build garden offices, we want them to last. We see the installation of your new garden annexe as an investment – something that will continue to remain a cosy, habitable space to work in for many years to come. Our garden offices are built with sustainability in mind – so that you can use them all year round. We hope this article has answered some of your questions about how garden offices stay warm through the seasons, even in winter. If not, we're always here to answer any questions you may have about our garden office services.