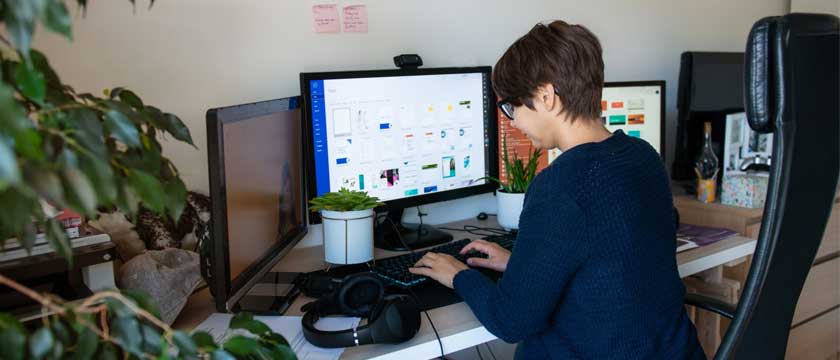 December 2, 2021
Many businesses continue to implement mandatory or voluntary work-from-home policies. This has resulted in lots of people having to deal with the challenges of working from a home office full-time. If you are one of these people, whether it's your first month or second year, you've probably struggled at some point with the multitude of distractions and temptations a home office offers.
There are also several benefits to working from home including reduced travel time, savings on commute costs and meals, and being able to spend more time with your family. In fact, working from home can actually result in greater productivity. In a recent report by Flexjobs, "Among performance-based remote work statistics, 85% of businesses confirm that productivity has increased in their company because of greater flexibility. Additionally, 90% of employees say allowing for more flexible work arrangements and schedules would increase employee morale, while 77% say allowing employees to work remotely may lead to lower operating costs." Consequently, businesses are starting to notice the benefits of telecommuting which many experts believe will transform the way we live, work and travel forever.
Here are 7 top tips that will help improve your home office productivity and well-being:

1 – Have a Separate Work Area
When you work at home, it's easy to let your work life blur into your home life. For anybody new to home working, the challenge is trying to create the right environment to still enable you to be productive, effective and focused on what you've been asked to do. It's so easy to become distracted, lose focus and then struggle switching off that often the only solution is setting up a segregated work space that separates work from home. It should be an area that mentally prepares you for work and not a place where you would typically go to relax such as your bedroom or living room sofa. This also means setting boundaries for your spouse, kids or pets.
If you're searching for a better work and home balance then a well-designed garden office log cabin is a great solution. Please be sure to check-out one of our recent articles 7 Reasons Why You Need A Garden Office Log Cabin for more information on all the benefits.

2 – Get Dressed to Work
Even if you don't think you'll be interacting with another person all day, it's still important to dress for success. That doesn't necessarily mean you need to don a suit and a shiny pair of shoes, but forcing yourself to get up and get ready for a regular work day will help make you feel energised and motivated.
Top tip: If you are struggling to motivate yourself to get ready in the mornings, try laying out your days outfit the night before, or plan a meeting or outing during the day so that you have to get dressed.
3 – Keep Yourself to Regular Working Hours and Breaks
It is important that you are clear when you're working and when you're not. According to the Health and Safety Executive (HSE), risk factors for home working come from awkward postures and repetitive work for long periods of time, so adding in some alarm timers to remind you to take a break can be really effective. Setting a schedule not only provides structure to the day, it also helps you keep motivated.
Top tip: There are numerous apps that use the Pomodoro technique which breaks work sessions into 25 minutes of intense focus broken by five-minute breaks and one 10-minute break every hour. One such app is TomatoTimer which we recommend.
4 – Find a Comfortable Chair and Desk
Choosing the right chair and desk is important, especially seeing as you'll be sitting for extended periods of time. We recommend choosing an ergonomic chair that is self-adjusting and able to support your back and spine effectively. When choosing a desk, find one that has enough space where all your tools – such as your laptop, printer, scanner, folders – are easily accessible.
Look for the following features in an ergonomic chair:
Adjustable height, seat depth, backrest and armrest
360-degree swivel
Built-in lumbar support.
5 – Customise Your Workspace to Your Liking
Shared workplaces can have many restrictions on what you can and cannot do. Rather than having to spend your weekdays crammed into a generic grey cubicle, you can work in an environment of your choosing. Maybe you need to be surrounded by plants, or keep your office environment at a certain temperature; whatever is needed to keep you engaged and motivated to the task at hand.
Top tip:  Paint colours on the walls have the power to affect us physically, intellectually and emotionally. According to Colour Psychologist Angela Wright, blue helps calm the mind and aids concentration making it a perfect colour in your office space. You can find all the psychological properties of colours here.
6 – Declutter
Decluttering office space has always been inevitable and a challenge. When your desk is a mess so is your mind, which is why if your office space is piled with documents, tools and supplies, maybe it's time to consider a major clean up. Decluttering the work area can elevate work quality, boost efficiency, and improve one's health.
7 – Stay Connected
One of the best things about working in an office is the potential for collaboration and socialisation. Unlike office work, remote work can make you feel isolated and removed from your clients and co-workers which can lead to weakened productivity and motivation. Try to check in with your colleagues a couple of times per week.
---
If you're looking for a better work and home balance then a well-designed garden office log cabin is your solution. There's no better time to invest in your outdoor space and open up more opportunities to spend time in your garden. For more information on what we do here at Eco Friendly Lodge Cabins, please check out our services page.